| | | |
| --- | --- | --- |
| | SE UCh FI Ch Combine Byline | |
Loke 4 år
C.I.B SEUCh FIUCh NUCh LVCh Combine Steward of the Line
It Ch Gildas Acteur
Stanroph Sailor Swansong
Gildas Kissing Cousin
Combine Online
Ch Combine Hennessy
Stanroph So Remember Me
Nord Ch Stanroph Sweet Dreams
SEU(u)Ch FIUCh Combine Nintendo
Ch Taram Du Bois De La Rayere
Ch Combine Flames of Fantasy
Stanroph Silent Shakira
Ch Catcombe Cock A Doodle Doo
Sh Ch Stanroph Silent Witness

HD B:B
Elbow 0
Eyetested clear sept 2023
Genetic clear of PRA_1 PRA-2.
Pedigree K9
Loke föddes den 11 april 2018 i en kull på 3 valpar.


* BIR-valp, BIS-2 - SSRK Mjölby vid 6 månaders ålder.
* BIS-valp GRK Open Show i Hallstahammar februari 2019
* Vinst i Juniorklass med ck för Catherine Zing Malmö Internationell i mars 2019.

* 1 st Junior Dog National Gundog i England för Sue Barnes i Juli 2019

* cert BIR SSRK Högbo som junior för Hans RosenbergSSRK Örnsköldsvik 2019
* cert som junior för Henric Fryckstrand Nordic Dog Show Högbo 2019
* BIS-jaktmeriterade Dansk retrieverklubb april 2022
* BIS-jaktmeriterade och Reservcert för Vicky Clarke SSRK Ulriksdal 2022
* cert BIR Svenskt Championat för Kjell Svensson SSRK Sunne i juli 2022
* cert Finskt Championat för Henric Fryckstrand Åland Internationell 2022.


* Unghundsderbyt 2019 med poäng
* WT golden Specialen i aug 2019
* Genomfört Funktionsbeskrivning (FBR) 2020
* 1 nkl B-prov för Willy Gustafsson 2020
* 3 ökl B-prov för Bitte Sjöblom 2021
* 2 ökl B-prov i Danmark april 2022
* Excellent ökl B-prov på Gotland maj 2022
* Excellent ökl B-prov KM GRK juli 2022




---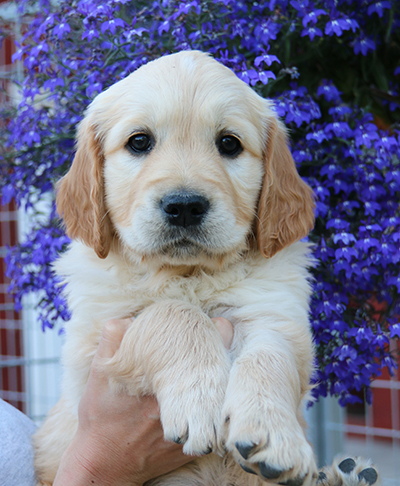 ---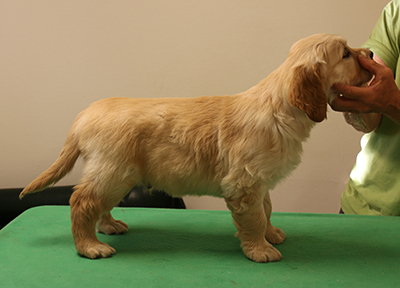 Loke 8 veckor
---
---
---
Loke 8 månader
---
Loke 8 månader
---
Loke 10 månader
---
BIS-valp Golden Klubbens Open Show i Hallstahammar
---
Vinnare junkk med ck för Catherine Zing i Malmö
---
Loke 15 månader, 1st Junior Dog

National Gundog Champonshipshow, England, 2019.
Judge Sue Barne´s write up;
"Super head and expression with very dark pigment and well set on ears.
Excellent length of neck flowing into well laid back shoulders with goo
d
length of upper arm,
tight in elbow, straight legs and lovely cat like feet.
Well proportioned body, level topline and good tail set,
excellent rear angulation with short straight hocks.
In lovely coat and hard condition and one of the best movers of the day,

H
e should have a very bright future ahead of him."

---
Loke med sin far Davy.
---
Loke tar 1 nkl B-prov i oktober 2020.
---
Loke med sin far Davy.
---
Loke 16 månader
---
Loke hösten 2021
---
Loke 3 ökl B-prov hösten 2021
---
Bästa jaktmeriterade Dansk Golden Retriever Klubb april 2022
---
Loke 2 ökl B-prov april 2022 i Danmark
---
Loke 3 år
---
Loke 4 år
---
Loke startar på två B-prov i ökl 2022
med resultatet 2 x Excellent
---
Loke 4 år